May 12, 2022 in News --> Birth Injury
Neinstein Clients Win New Trial at Court of Appeal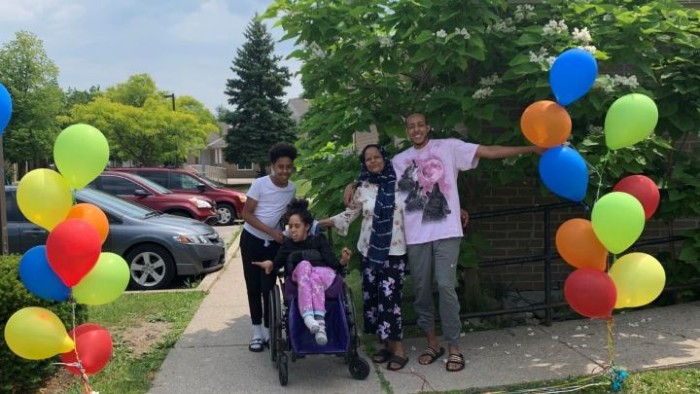 Last month, the Ontario Court of Appeal ordered a new trial for Sabrin Farej and her family, Neinstein clients who have endured monumental challenges following Sabrin's difficult birth more than a decade ago. Here's what happened:
Farej v. Fellows
The claim against Dr. George Fraser Fellows alleged that the obstetrician breached the standard of care by opting for a vaginal delivery rather than a Caesarean section during Sabrin's difficult delivery. As a result of this decision, and other decisions during the course of the delivery, Sabrin experienced a prolonged period of near-total oxygen deprivation resulting in severe brain damage. Today, Sabrin experiences permanent disabilities. She will be completely dependent on her family and caregivers for the rest of her life.
At trial, the judge dismissed Sabrin's claim.
The Appeal
The Farej family appealed the trial judge's decision on the basis that, in Canadian Lawyer's words, "the trial judge's reasons were inadequate, that they did not permit meaningful appellate review and that the interests of justice called for a new trial." The Court of Appeal agreed with these assertions.
"Without arriving at a time, or at least a timeframe, within which the emergency Caesarean section could have been completed, the finding of no causal connection between Dr. Fellows' action and the injuries is unintelligible," the court found.
'Due to inadequate reasons,' Canadian Lawyer concluded, 'the appeal court concluded that it could not meaningfully review the finding of failure to prove causation, and therefore the trial judge's judgement could not stand.'
As a result, our clients have been awarded a new trial.
What's Next
Neinstein Personal Injury Lawyers will continue to represent Sabrin and her family until a final resolution to this complex case is delivered. Our end goal is to ensure that Sabrin Farej and her family is compensated for the significant challenges they have faced since her birth.
In 2021, the head our Medical Malpractice Group, Duncan Embury, launched a GoFundMe campaign in support of the Farej family. This campaign is still active; readers of this article are invited to donate if interested.
Contact Neinstein Personal Injury Lawyers
If you or a member of your family has been injured as a result of obstetrical malpractice, contact Neinstein Personal Injury Lawyers today to learn how our experienced team can help.