Jul 05, 2016 in News --> Privacy Breach
Wearable Technology, Medical Record Sharing, and Privacy in Canadian Healthcare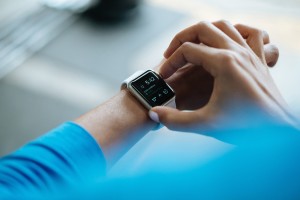 "Wearables" (or "wearable tech") are clothing and accessories which incorporate computing and electronic technologies to accomplish a practical function. The technology comes in a variety of forms, but products like Google Glass and Apple Watch are perhaps the most recognizable examples. Whether or not you're familiar with the technology, the wearable industry is growing rapidly and "is expected to reach a value of 19 billion U.S. dollars in 2018, more than ten times its value five years prior," according to Statista.com.
Healthy living and fitness have become important niches for the wearable industry. San Francisco-based Fitbit has produced a number of activity-tracking products which measure data such as the user's heart rate, quality of sleep, and the number of steps they've taken over the course of the day. While this data is largely for personal use, it can also provide insights for your healthcare providers.
A recent article from the Globe and Mail talked to several British Columbia entrepreneurs who believe Fitbits are the tip of the iceberg for wearables in Canadian healthcare: Dr. Vahid Sahiholnasab has designed glasses which prevent children from developing bad posture while playing video games; biomedical engineer Paul Fijal's team is working on a wearable band which helps caregivers for people with autism to better understand their patients; and Simon Fraser adjunct professor Luc Beaudoin has developed an app that helps people fall asleep.
Wearable tech is far from a faultless industry, however. Concerns over privacy have led consumers and some members of the Canadian healthcare community to question whether the technology is ready for widespread proliferation. In April 2016, the Office of the Privacy Commissioner of Canada (OPC) took part in a global privacy sweep and focused its efforts on health devices.
"Connected devices, such as fitness trackers, smart scales, sleep monitors, and other health related products, are capable of capturing some of our most intimate data," said OPC Commission Daniel Therrian, in a release. "Given the sensitivity of the information, it is imperative that the companies behind such devices are transparent about what they collect, how the information will be used and with whom the data will be shared."
According to a May article published by Aisha Ramakrishan of Aird & Berlis LLP, the Personal Information Protection and Electronic Documents Act "provides ground rules for how companies can collect, use or disclose personal information for commercial activities." However, wearable technology is intended to operate in the background of people's lives, meaning that traditional prompts for user consent are generally rendered useless. How much potentially important medical information do companies like Fitbit have access too?
Technological privacy concerns don't stop with wearable technology. Markham Stouffville Hospital (MSH), located north of Toronto, is a proud early adopter of "Connecting GTA" (cGTA), an electronic health information sharing platform linking medical facilities across the Greater Toronto Area. As part of eHealth Ontario's larger Connecting Ontario initiative, cGTA provides clinicians with "ready access to a provincial patient data repository," MSH CIO Lewis Hooper told Hospital News. "Such access allows our clinicians to view information critical to our patients and their care."
Assuming the best, cGTA can make life much easier for Ontario's medical patients. Hospitals can easily share important information back and forth to ensure that correct medications are prescribed and attending physicians are aware of the latest lab results. Information sharing platforms of this sort have clear benefits, and are likely to be adopted by the larger Canadian healthcare community.
However, security concerns exist over cGTA as well. Collecting and maintaining medical records in a centralized location could theoretically lead to large-scale privacy breaches or professional misconduct. As a patient in the Canadian healthcare system, you have a right to an acceptable standard of care, of which privacy is a part. If you believe your rights as a patient have been violated, contact Neinstein Medical Malpractice Lawyers' Medical Malpractice Group today for a free, no-obligation consultation.